Your business has something of value to offer the market, but you don't have unlimited resources. So, you have to determine the best way to maximize your marketing efforts. Which type of customers bring the highest revenue? And how do you keep them happiest over time? These questions and more can be answered with a customer segmentation study.
At Ntara, we conduct primary research to inform segmentation. We analyze the data from all angles to find what makes your different audiences unique. Then, we create useful tools for your business such as persona profiles and customer journey lifecycles. These tangible assets serve to inform your sales and marketing channel strategies and investments.
What is customer segmentation?
Customer segmentation is the process of analyzing and organizing your customers into meaningful groups who share similar qualities and characteristics. Doing so allows you to more effectively market your products to specific audiences.
Segments can be based on a number of attributes such as industry, role, needs, preferences, budget, and more. If done well, a customer segmentation study informs how different types of customers shop, transact, and make decisions in their day-to-day lives (whether B2B or B2C). The benefit of segmentation is to help your business decide which resources and strategies to invest in to best reach and win your ideal customer.
How we approach a customer segmentation study
When we engage with enterprise businesses for customer segmentation research, we develop a completely custom study that gathers statistically significant data about your target audience. We collect insights, analyze findings, and create meaningful segments based on primary data. We pull data from this custom survey, as well as any existing data you might have from previous surveys, sales data, interviews, and more. We compile our findings into a comprehensive report including survey results and findings, risks and opportunities, and complete persona profiles and customer journeys.
Here's our step-by-step approach to customer segmentation done right.
1.   Conduct stakeholder interviews.
We begin every customer segmentation study with stakeholder interviews. We want to talk to people in marketing, sales, product development, customer service, IT, and more depending on the scope and need. Whenever possible, we also want to interview your value chain partners, such as distributors and dealers, and of course some of your end customers, too.
These interviews help gather anecdotal and established insights about the audiences we're studying, as well as specific business priorities. Then, we have what we need to develop a plan of attack for our primary research tool—a comprehensive custom survey to be disseminated to your target audience.
2.   Build a robust customer survey.
Our core research tool is designed to objectively gather data about your customers' needs, attitudes, and behaviors. This tri-dimensional approach delivers a 360° view of your customer—who are they, what do they need from you, and how do they want to do business with you. The answers to these questions reveal your true customer segments.
What questions are used in a customer segmentation survey?
We work with our clients to develop a variety of question topics, then we decide which question format will best provide an objective analysis.
While the main purpose of the survey is to determine customer segments, you can also ask questions around Net Promoter Score (NPS), customer service satisfaction, product quality, etc. These factors can reveal a lot about what is or isn' working optimally  today. For instance, we recently proved for an OEM that customers who agree to inventory integration are among the most satisfied customers for the firm. They experienced less inventory issues and were generally more satisfied with product quality, too. The firm used this insight to expand efforts into growing their managed inventory service.
In the end, the content of customer segmentation questions should be prioritized based on the most important things you must learn from this survey. Most of our surveys include 30 to 60 questions to avoid respondent fatigue. And yes, people take the time to fill them out—especially when motivated with an incentive!
(Note: We are a SurveyMonkey Power User and use this tool to deploy our customer segmentation surveys. Check out our Leveraging customer data to help businesses win big blog to read more about our methodology.)
How many responses do you need?
For survey data to be actionable, it must be statistically significant. This means there is A) enough sample data to represent the broader population, and B) that it is predictive of repeatable customer behavior.
Why does statistical significance matter? Say the recommendation is made that you need to downsize outside sales resources and invest in a centralized customer service program with live chat. This is a significant change to your business. As a strategic leader, you must be sure that you're basing critical business decisions on legitimate data. In other words, this data must accurately represent what your target population truly believes, needs, and wants from you—therefore, it must be statistically significant.
(Statistical significance thresholds vary by client. Here's a helpful resource on how to calculate your minimum sample size.)
3.   Analyze your survey data
These studies are designed to meet the needs of your business. The results shine a light on the needs of your target audience. In countless customer segmentation surveys, we've unveiled millions in potential revenue. We've revealed risk points in how businesses operate, and we've identified how much our clients should be investing digital vs. traditional channels.
Do your B2B customers really want ecommerce? Are they satisfied with the current digital experience? What information do they need at what point of the conversion process? Each question was designed to capture pertinent answers like this that will shape your marketing and channel strategy.
To extract insights from the dataset, we deploy a deductive analysis process to identify your statistically significant customer segments. We look for data that demonstrates clear differences in purchase power, preference, and application needs. We look at how they do business with you, who's happy and who's not, and how they feel about your brand.
After we've identified significant customer segments, we formally prepare our findings into formats your business can use to make decisions, inform strategies, and reference in the field.
4.   Build persona profiles and customer journeys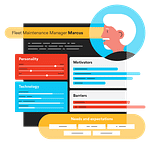 This next step is all about bringing the data to life in a useful format for sales and marketing. After your customer segments are confirmed, we develop persona profiles and journey lifecycle maps for each one. These are valuable tools that your sales and marketing teams can use for years to come—in executing various channel strategies, in content development, to prep for sales calls, and to inform your website's user experience (UX).
Personas and customer journeys come in all shapes and sizes. Ours are holistic, data-driven, and demonstrate integrated channel interactions from awareness to conversion to repeat purchasing. Specifically, we aim to demonstrate what customers need from digital, as our customer segmentation studies are often tied to a larger digital roadmapping study.
Our persona profiles include a brief narrative about your customer segment—their role, what drives them to purchase, any barriers that prevent them from converting. Some agencies fill personas with fluffy heuristic details that aren't actionable. We focus on qualitative and quantitative data. These profiles help your team get inside the heads of your most important audiences. They aren't meant to be stored in a drawer and forgotten; they're meant to be used on a regular basis to keep your unique audiences top of mind in everything you do.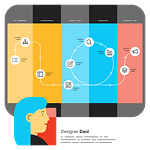 We then combine key insights from stakeholder interviews and survey data to develop visual journey lifecycle maps. These tools show in more detail the path each customer segment takes with your brand. What are their questions, motivators, and barriers at each stage of the conversion funnel? How does one segment compare to the other in terms of channels used and information sought? Customer journey maps summarize how each segment shops and what steps your organization could take to improve their experience.
Personas and journey maps are both snapshots in time of your customer segments. We recommend our clients revise and amend both tools over time as they learn more—and we recommend surveying your customers regularly (every one to three years).
Why customer segmentation is necessary for sustainable market growth
For many organizations, the current customer experience does not align with the long-term vision of sustainable growth. Do you actually need to invest in serving every customer equally, or can you pinpoint the most profitable segment to pursue to better stretch your marketing dollars?
Instead of launching your next campaign on a hunch or entering a new market with the same old tactics, take the time upfront to find out what your customers need and want. Customers want to engage with you—and surveying them is your greatest opportunity to understand their needs.
Whether you're looking to redesign a website or completely change the way you do business, customer segmentation can help your business gather invaluable insights. Leverage customer data to inform your next strategy.
Is your business considering a major digital initiative? We can help you make strategic decisions backed by data. Talk to us about your own customer segmentation study or full digital roadmapping study.