Last year, as the physical world shut down during the COVID-19 pandemic, the online world exploded—forcing many companies to completely shift how they do business.
Today, consumers are better versed in digital than ever before. When it comes to ecommerce, they demand experiences that meet their expectations. And they know that they have options if they don't get what they need.
To answer this increased demand, brands are investing over 50% more in ecommerce this year, signaling a massive refocus across all industries on the needs of the end customer.
For a long time, businesses have prioritized what matters most to them, i.e., what checks the boxes on their corporate KPIs. It's time to reassess those goals and ensure that your customer needs are at the top of the list.
Whether you're redesigning your B2B ecommerce website or standardizing your product data, you need to understand those customer expectations—and use them to inform a strategy that meets the needs of your business.
Collecting data from internal and external audiences
We recommend a mixed method approach to data collection to inform any digital initiative. A quantitative approach provides customer data that is statistically significant, meaning the sample of customers you survey is confirmed to be representative of your larger audience. A qualitative approach provides context about your customers, allowing you to understand the "how" and "why" behind their behaviors.
To create an ecommerce experience that meets both customer and internal needs, you can't make any assumptions. With large capital investments, you must take a step back and evaluate the needs of your business and your customers.
Stakeholder interviews
Nothing uncovers alignment (or misalignment) within an organization better than stakeholder interviews. Before you begin a digital project, speak to decision makers and key contributors from each department in your company.
The goal is to uncover what they believe is important to the organization, their biggest unserved needs, their expectations of your digital project, and their beliefs about your customers.
These insights are critical in developing a baseline for where you are today and where you need to go.
Often, we identify expectations within one department that are in conflict with another. It's important to bring these to light and address them head-on before beginning your project.
Even more often, we identify assumptions about customers that are outdated, exaggerated, or untrue. You can use these insights as hypotheses for customer research.
When prioritized and done well, stakeholder interviews can provide deep insight for how to approach any digital initiative. As an added bonus, they're also a great way to generate buy-in on your project across the organization.
Customer research
Sure, plenty of data exists about your industry and the general groups of people you sell to, but your customers are unique. Businesses aren't cookie cutter, and digital isn't one-size-fits all. It's one thing to read what others have published about broad audiences. But it's more effective to survey your actual customers and figure out what makes them tick.
To uncover these nuanced and critical details, we recommend conducting a large-scale survey initiative. While this requires an investment of both time and money, nothing can guide your digital strategy more effectively.
For example, an original equipment manufacturer (OEM) may not fully understand the lifecycle of their end customer because they don't have visibility into dealer interactions.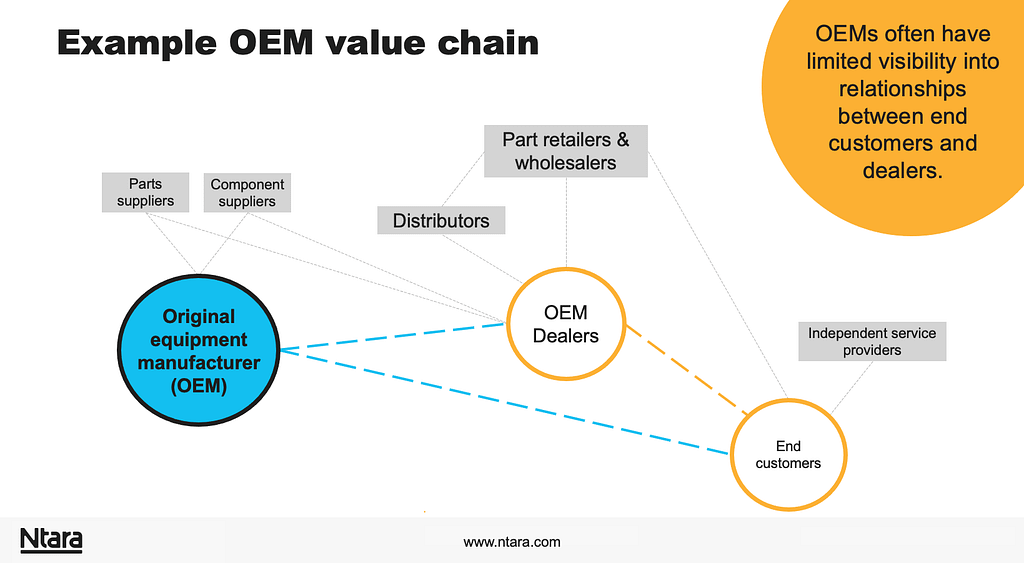 Before that OEM moves to ecommerce, they should conduct a customer segmentation study to uncover customer needs and preferences at each step of the value chain. This provides critical insight into what information customers want from which channel, in what format.
Customer research is also an opportunity to prove or disprove any internal assumptions about customers and dig deeper to learn more about how audience segments differ.
The goal here isn't to create an ecommerce website that answers every need of every customer. But you can identify multiple ways to improve your brand perceptions—and learn what would encourage various customer groups to spend more.
The ultimate goal is a full-scale understanding of what your customers need and expect. When you understand them at this level, you're more equipped to make adjustments that impact the effectiveness of your go-to-market strategy and your bottom line.
Applying data to your ecommerce strategy
Often, businesses commission research but struggle to turn insights into action. Don't let the momentum fade after the crescendo of the final presentation! This is where the rubber meets the road.
Actionable customer personas and journey maps
Customer segmentation data is insightful, but it's only valuable if you apply it.
Personas
Personas often have a bad rap, and it's easy to see why. We've encountered countless personas created with broad brush strokes, based somewhat on data but more so on assumption. This type of persona is unhelpful because it isn't rooted in reality.
Personas should be accurate representations of your customer segments. No made-up stories. No heuristics. Rather, snapshots in time—backed by data and colored with context—that represent each of your unique customer segments.
They should summarize how different customer groups want to engage with your brand and what they expect. There are no hard or fast rules about what personas should include—demographic data, psychographic, attitudinal, behavioral—the list goes on and on. As long as the data is useful for your business, it's worthy of being captured in a persona slide.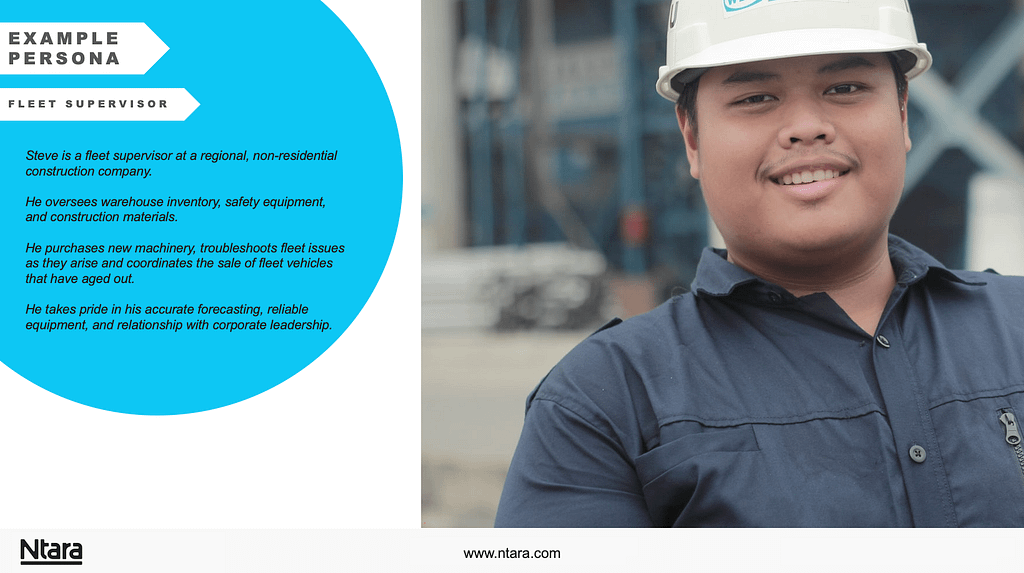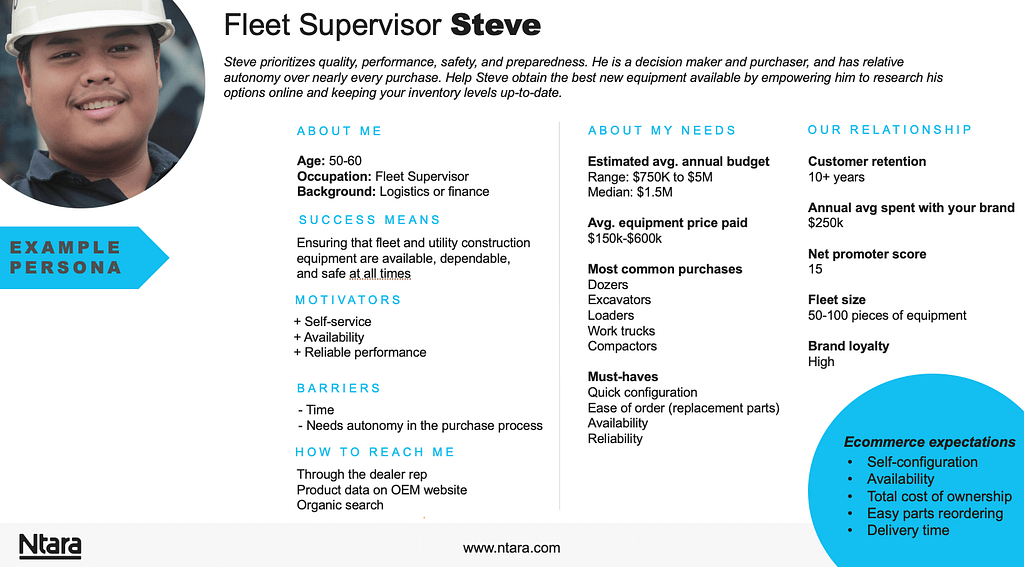 Customer journey maps
If personas are a snapshot in time, customer journey maps would be the panoramic view.
Journey maps tell the lifecycle story of each persona. They illustrate customer preference across the conversion funnel—from awareness to consideration to purchase and beyond.
With journey maps, you can see at a glance when each group of customers wants to engage with your brand, what questions they have, and who they want to receive information from at what phase of their journey. Because these maps are backed by data, you can use these insights to determine where to invest your marketing dollars to improve their experience and increase their spend. Whether the differences across segments are subtle or significant, they're critical in planning for a customer-centric website.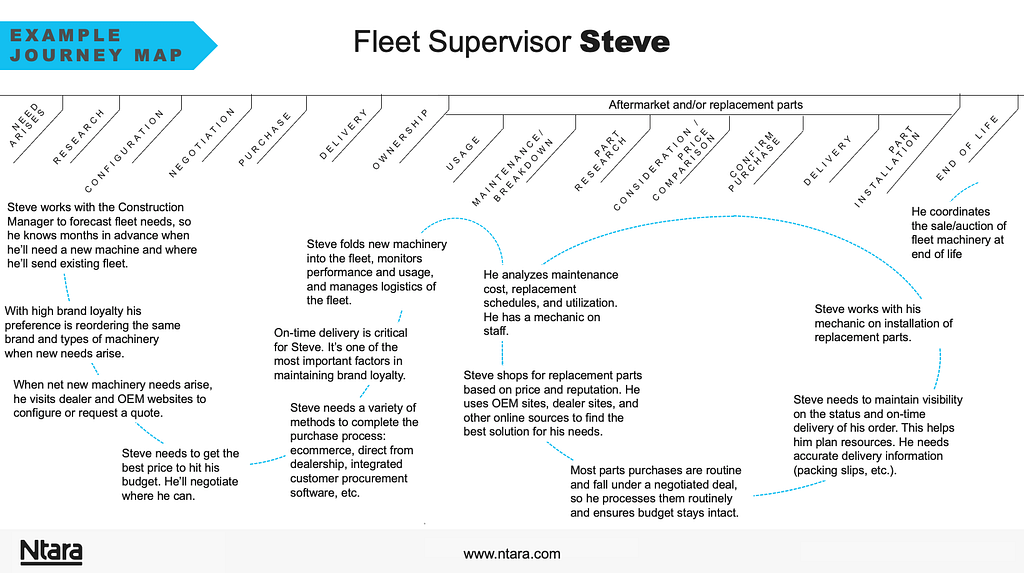 User stories and user flows
Personas and customer journey maps are the tools you need to audit your existing website and evaluate how well it meets customer needs. We typically start this process with user stories that summarize the actions each persona needs to take on your site.
From there, we recommend a UX mapping exercise to identify the paths users take to complete these stories. These paths are called user flows, and they help identify roadblocks and opportunities for improvement.
Whatever your ecommerce initiatives are this year, be sure they're backed by data. Before any big digital project, align the goals and expectations of your internal stakeholders. To become more customer-centric, conduct primary research to identify your unique customer segments. Then, apply that data through personas, customer journey mapping, user stories, and user flows.
With this initial investment, you can clearly identify your most profitable opportunities, and you'll have a baseline for measuring future performance.
Interested in learning more about how customer research drive revenue for your business? Drop us a line.